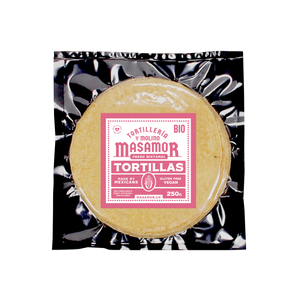 Tortillas AMBIENTE de maiz 250 gr 14 cm MASAMOR
Sale price Price SFr. 6.50 Regular price
Tax included.
Fresh ground Nixtamal

Organic

Made in Switzerland (CH)

No preservatives

Woman and Mexican Owned

1% of profit donated to SuizaProMexico

Mas amor = mas sabor
Making a delicious, high-quality tortilla is more difficult than you might think. Many variables affect the final product's appearance, texture and flavor. 
Nixtamal is corn that has been cooked slowly using lime. Organic dried corn is cooked briefly with lime and then allowed to steep overnight. This softens the kernel, releases the hull and increases the nutritional value of the corn.